Guitarist
As a guitarist Keith has played alongside and supported many luminaries such as Spooky Tooth, Mike D'Abo, Steve Winwood, Ruby Turner, Larry Burton, Dave Markee and Henry Spinetti (Eric Clapton Band and Tina Turner) Greg Ridley of Humble Pie, The Groundhogs, Robbie Blunt, (Robert Plant) Luther Grosvenor of Mott The Hoople, Gino Washington, and many others. If you are looking for a guitarist for gigs, tours or studio work or maybe take advantage of Keith's online session work....then take a listen to the demo below.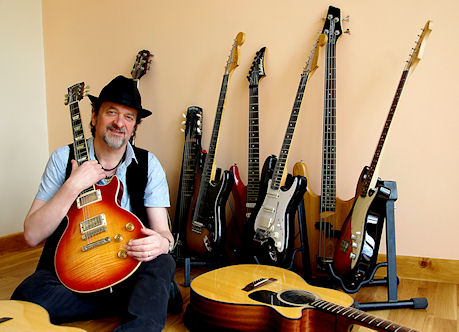 Would you like Keith to play guitar on your track? This can be arranged. Just send an MP3 of your song and where you would like the guitar part to be played and keith will record his part in the studio and send you the wav file so you can drop it into your recording. Simple! Here are some examples of guitar styles.....
If it is a different instrument you would like. Keith can play various instruments. Blues harp, keyboards, bass guitar, Vocals etc. But if the track requires something a bit more specialized, such as Saxophone or female vocals....this is also possible. Density Music has a pool of musicians to choose from. This will of course have an impact on the fee to cover the cost of hiring in a session musician.
For firther information on any of the above, please contact: